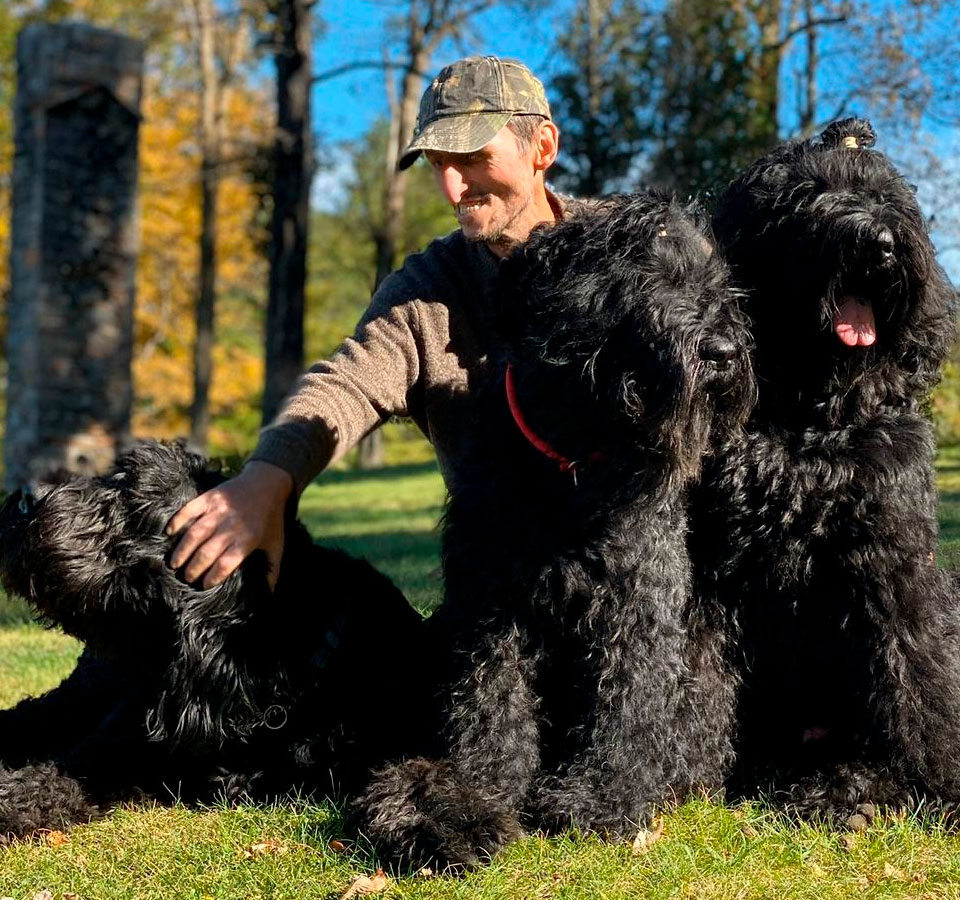 BARBI S BRONICH JEAN D'ARK AKA AVA
I am a mom of fantastic babies, but I am also a working mom. A working dog — that is what I am. I may be stunningly beautiful, and my hair is every groomer's dream, but I am the first on guard if a bear comes near our home up in the mountains. Boys, try and catch up with me! And yes, the verse "no most of all I love the way you move" was written about me.
BARBI S BRINICH LEON AKA LEO
I am a happy-go-lucky dog. Happy every moment of my life, I am very friendly and would like to meet you all. I love my social gatherings in dog shows and I come to win. Yet, I am always on guard, watching if the master of my pack needs my protection.
BARBI S BRONICH ZEVS AKA ZEUS
I am a traveler. I have lived in Manhattan, Los Angeles, Miami Beach, and traveled cross country many times. I love driving, but swimming is my passion, especially in the ocean in Miami, the streams in North Carolina, and the rivers in Montana. Although I love our place up in the Blue Ridge Mountains, I'm a city boy: flies are not my favorite creatures. I am a trendsetter for BRT hair style, ahead of the game: my bangs are long enough to protect my eyes from the sun, but not too long, and my beard is the perfect handsome length.
Our puppies are raised in an ecologically clean environment at the altitude of 4,000 feet in the Blue Ridge Mountains. Raised on fresh eggs from our chickens, drinking milk from our goats, and water from our freshwater spring, they are free to explore our 25 acres with the supervision of all our adult BRTs. We are proud to present a litter from the oldest line of Karaj and Vajka Vejs, bloodlines of World Champions, Europe Champions, AKC champions, CH CGC BARBIE S BRONICH LEON and CH CGC BARBIE S BRONICH JEAN D'ARK.
All puppies are:
Genetically tested
Fully vaccinated
Dewormed
Microchipped
AKC registered.
At 49 days, all puppies will be evaluated by Campbell test and Volhard test to ensure a better owner match potential to their new family member. Lifetime support and consultations for all new owners. No two puppies are born the same.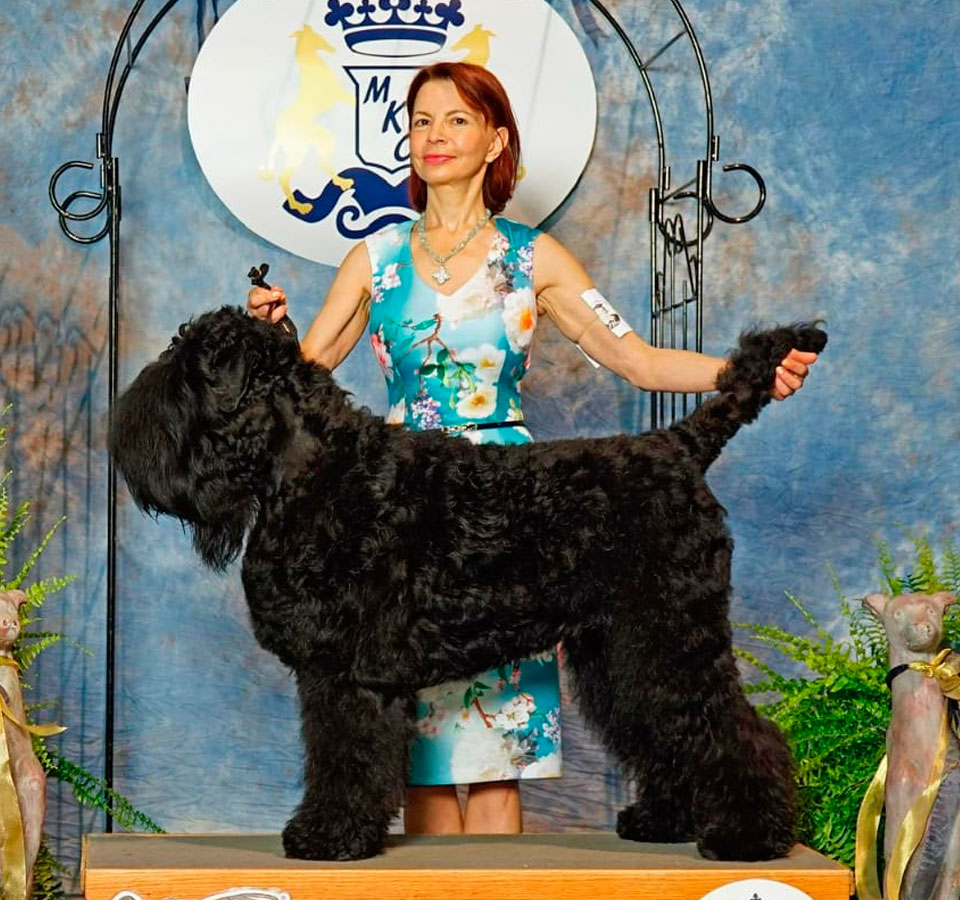 TATIANA
I'm loving dogs since childhood. While I'd study at the institute and working in genetic engineering (I have PhD in molecular biology/genetic engineering) — I had seriously fond of the influence of genetics on different types of animals, including dogs.
Analyzing the history of breeding of various breeds, I stumbled upon the history of Black Russian Terriers. I was fascinated by the fact that the breed was bred personally by order of Joseph Stalin as a universal dog. When the first BRT appeared, we immediately realized that this is exactly what we are looking for
The dog became a member of our family and impressed us with its character and intellect! Dog-friend, dog-companion, dog-helper! So I decided to engage in breeding and popularization of this breed.
HAMLET 
When I am asked about my dogs, I can say a lot. But the most important thing is: because of them, I am alive.
Doctors said that I have a few years to live. I already surpass their expectations.  They say that there is no cure for me, but my dogs are my cure.
They can carry my oxygen supply, and if, as it happened before, I stop breathing in my sleep and alarm will go off, they will wake me up or send an alarm out.
They bring awareness to a little known autoimmune disorder Scleroderma, from with I suffer. Since they are a show stopper in Manhattan or Miami Beach, more people learn about that, when they ask me.
And my dogs keep me in shape: I walk and train them.  As a former professional athlete (Judo was my sport), I cannot do with for a better breed.
I have a deep knowledge in acupuncture and massage, combined with my Judo training, I can see all shortcomings of dogs on the street and in the ring.
The saying: "If you want to buy health, buy a dog" is exactly my case. I wish more people would know the truth of that saying.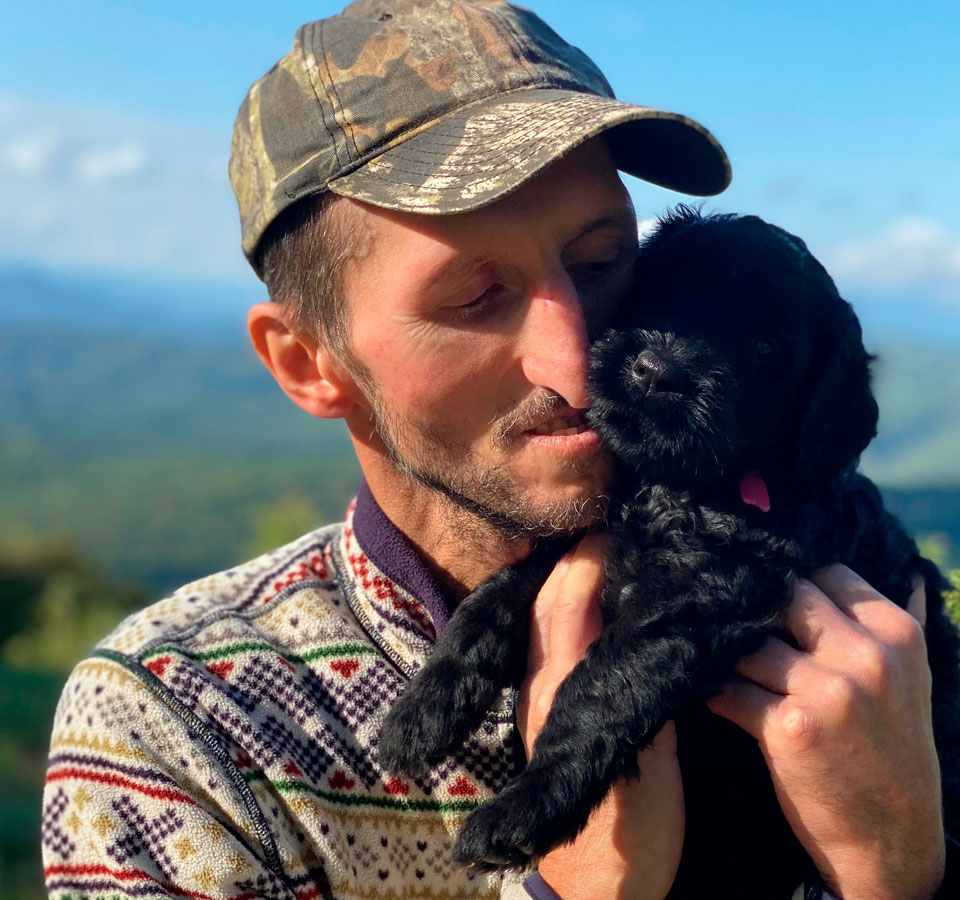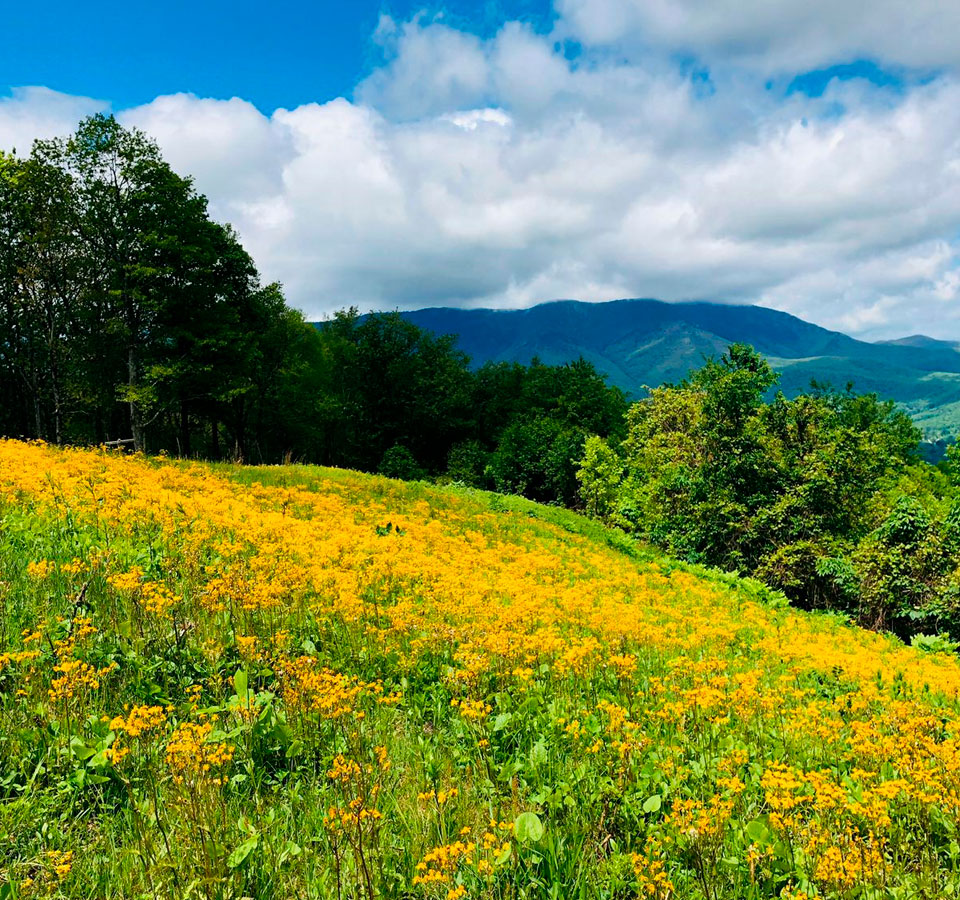 BRTs was breed to live in all possible climate conditions. And they do. They are fine to live in the North Pole with their hair grown or in the heat with a clean shaved haircut.
You can see our dogs in Miami Beach. Most likely we are swimming or running on the sand, building muscles to compete in the dog shows.
You can see us in Manhattan, in Battery Park City (aka Dog City, because its the friendliest neighborhood in Manhattan for dogs). That's the best way to make friends in New York, because of the
effect of "invisible man", characteristic of our breed: everyone looking at dog, nobody noticing human, who walks them.
But our "Top Of the World" habitat is in Blue Ridge Mountains, near Asheville, at the elevation of 4,000 feet — that is where Black Russian Paradise is located. Never in need for AC, it's fair to say that we have an unlimited territory, because our only neighbors are Pisgah National Forest and Wild Live Conservancy.
That's were we bring our puppies up. High elevation builds red blood cells up making us true athletes.
Our goats give us milk and our chicken give us eggs. Our spring gives us water. And it does not hurt to enjoy 85 miles view: we can see North Carolina, Tennessee and Virginia in one glance.
Come visit us, we have 2 rental cottages. For one's who came to pick up their puppies, a 2 night stay is complimentary.
Who is it — the Black Russian Terrier? it's a companion dog, a partner dog, a dog protector.
⠀
Dogs, that comes from a responsible breeder have excellent character:
Intelligent

Unobtrusive

Affectionate

Balanced
With high intelligence, the dog is able to make decisions in the absence of the owner.
⠀
At the same time, the Black Russian Terrier is an excellent defender. The dog seeks to stop any violence or attack.
⠀
The breed was bred as guard dog but become a universal working dog. Not for nothing in the USA BRTs are usually called Dogs James Bond.